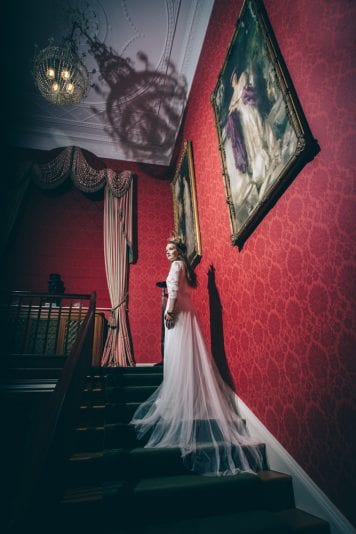 *****
Turn your fairytale into reality
We are currently offering discounts on remaining available dates in 2017. Contact us for more details
*****
Now in its third year of weddings and events, Bridwell has proved itself to be an extremely popular and sought after wedding venue.  Set amidst the beautiful Devon countryside, it is only a stone's throw from the motorway and Tiverton Parkway mainline station and yet Bridwell is an oasis of calm and you would never know how accessible it is.  From the moment you drive through the wrought iron gates into the parkland you will be in heaven.  Take it slowly up the drive towards the house as the occasional red or fallow deer may bound across the road but this will give you the opportunity to relish the approach, the ornamental lake, the parkland and the Georgian house sitting regally in the middle of the park.
Your wedding celebrations start from the moment you arrive and take over this glorious country house estate.  You may wish to stay one, two or three nights and take advantage of the luxurious accommodation in the Main House and Old Stables.  Surround yourself with your family and friends, pop open a bottle or two of champagne and get set to enjoy!  We cater for weddings of all sizes with maximum numbers in the Orangery at 150 for the wedding breakfast.  However, if you wish to add a marquee or tipi in the park, your numbers can be much larger if needed.  Ceremonies can take place outdoors in the Conservatory Gardens, in the House or the Chapel depending on your numbers and desires. So you can install yourselves in this elegant country house estate and there is no need to move anywhere apart from the house to the chapel or orangery.
We allow you to choose your own suppliers with guidance from us if needed.  You may want a barbecue on the Friday night, food stalls, fine dining or perhaps mum has cooked a fabulous curry for you all to enjoy on arrival!  Our suggested caterers for your wedding breakfast are all superb and used to catering at Bridwell.  They are tried and trusted and the food is delicious.  And we can suggest local cooks to come in and cater for you and your guests at breakfast if you don't enjoy the idea of self-catering so you can relax and really enjoy all that Bridwell has to offer.  Corkage?  Forget it… we don't charge and so you are welcome to bring in as much of your own wine, champagne and beers
Our venue hire fees vary and most weddings are subject to a bespoke quotation so please, by all means, look at the rates page, but preferably do drop us an email or give us a call to discuss your particular special wedding… we would love to hear from you and are happy to help.
We think we have something pretty special to offer at Bridwell and in order to really appreciate that special something, we advise you to come and have a look for yourself to see if it ticks all of your boxes.
01884 842430
Photograph courtesy of Maxi Photography