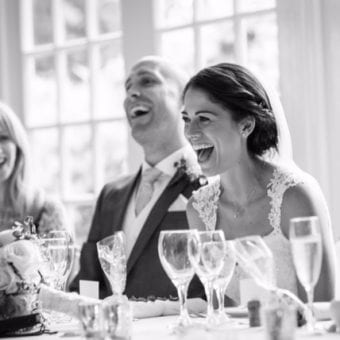 As soon as we drove through the main gates and saw beautiful Bridwell House, we knew that we were going to have an unforgettable weekend.  Ivar and the Bridwell Events team made us feel so welcome before they handed over the keys and it truly felt like Bridwell was going to be our 'home' for the weekend.
We are so glad that we hired Bridwell Park for the long weekend as it meant that we could make the most of the house with a few of our closest friends before the main wedding celebrations started… watching Robin Hood Prince of Thieves in the cinema room on Thursday night was a particular highlight.
Once all the decorating was finished and looking exactly how we had dreamt it, all the deliveries completed and we had figured out where to put the copious amounts of booze and mixers (thank goodness for the large fridges in the Orangery!), it was time to relax and welcome our guests. There was something very special about seeing our guests in awe as they arrived and walked through the house… this is why we had chosen Bridwell! Having Friday night drinks in the conservatory was the perfect start to our wedding weekend. It brought everyone together and enabled new friendships to blossom. The house has such a special vibe, which was echoed in how much all of our guests were enjoying themselves simply by being in such an extraordinary place… and this was just the beginning!
The 6 am girls-only yoga class on the morning of our wedding was such a fun idea, and despite wishing we hadn't enjoyed ourselves quite as much the night before, it will be something that I will remember with such fondness. Yoga, followed by a beautifully cooked English Breakfast by a local Devonshire chef, followed by a lovely long soak in a bath tub in one of the most gorgeous bathrooms I have ever seen, helped calm any last minute nerves… I was so calm in fact that I was ready nearly an hour before the church ceremony, an early Bride, unheard of!
As a surprise, we had hired local vintage double decker buses to collect all our guests from the house and local accommodation to take them down to the church in the village, and what a beautiful sight that was seeing the buses outside the house. Once all the official duties were done it was back to the house and, despite the inevitable downpour that occurred just as the guests stepped off the buses into the house, there was a warm welcome awaiting them in the conservatory, in the form of cocktails and a local guitarist. Having so many rooms available downstairs for guests to mingle was a lifesaver when the heavens opened. Thankfully the shower was short, so it didn't have too much of an impact on the rest of our day. When the Master of Ceremonies (my brother) announced it was time to move into the Orangery for the wedding breakfast I wish that we'd been in there to see our guests' faces when they saw how stunning the Orangery looked, and to get their reactions to our wedding favours… are we the only ones who get super excited about Percy Pigs!?  As soon as we sat down the sun streamed through the conservatory windows behind the top table, and although the back-lighting was our photographer's nightmare, it looked beautiful! The Wedding Breakfast went by far too fast in a blur of exquisite food (I would have the chocolate brownie everyday if I could), and hilarious speeches – who knew my dad or the best man could be so funny!
Having the large garden outside the conservatory was the perfect spot for the hay-bale sofas and fire pits for our guests to huddle around as they waited for the band to set up. While Rich and I anxiously waited for the moment of truth to see whether we had remembered our wedding dance, our guests were happily throwing bean bags onto wooden boards with caricature pictures of Rich and I, and creating their own cocktails at our cocktail station.  Time was up and it was time for Rich and I to perform the dance that we had learnt and been practicing over the last 6 months, but as I forewarned our guests, we had not practiced with me wearing my dress, which had a very long impractical train, or with the live band who decided to play the Beatles track a lot quicker than we had been used to! Despite all this and nearly hitting my head on the antler light shade, we made it through the full 3 minutes! The band were fantastic and on numerous occasions, it felt like nearly all of our guests were up dancing – even my 90-year-old great Auntie was up dancing for most of the evening! I think that most people could have happily danced all night long, and at Bridwell we really could have done!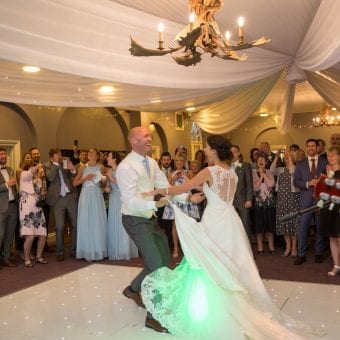 Sadly the continuous rain on Sunday put a slight dampener on our BBQ lunch, but it didn't put off our guests who wanted to have one final excuse to be in the house. Again we were so thankful that there were so many rooms for the guests to spread out in to escape the classic British rain!
We can honestly say that our wedding was one of the best days / weekends of our life, and we truly believe that Bridwell was a big part of what made it such a spectacular occasion. We have had nothing but glowing compliments from all our guests about how perfect everything was, and how extraordinary the house was as a wedding venue.
Thanks to Franky Templeman and Richard Linstead for this fabulous blog post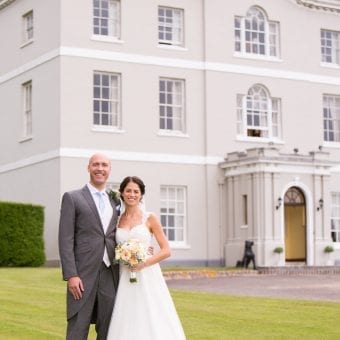 All photos courtesy of Kate Cowdrey Photography www.katecowdrey.com @katecowdreyphotography
Franky and Richard got married at Bridwell on Saturday 3rd June 2017.  They were an absolute delight to work with during the run-up to the wedding and the most beautiful couple.. both so tall!  In fact, the whole family were tall and good looking!  It was quite a feat organising the whole thing from the other side of the world, so incredibly well done to you all.
We are always thrilled to hear how much guests have enjoyed their time at Bridwell and thought a guest blog post from the occasional bride would be a fun and interesting addition to the Bridwell Blog.