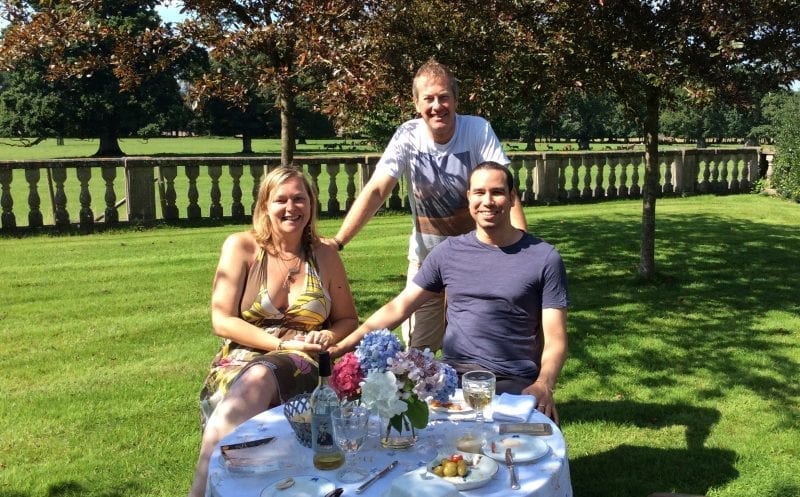 On August Bank Holiday Monday one of our old wedding couples came back to visit; I must correct that statement because they weren't just former wedding clients they were the first couple to ever get married here at Bridwell! But more than being the first couple, they were actually the principle reason that I got into the wedding business in the first place.
Margit is a force to be reckoned with. Five years ago I was not in a particularly happy place, I was recently divorced and was in the process of selling the house (a bit of a wrench) as to be frank a single bloke didn't need such a big house and I still owed money to my wife. One of the prospective buyers of Bridwell was looking to use it as a corporate retreat and was a friend of Margit's. He had mentioned Bridwell to her and shown her some pictures whereupon she informed him that she was looking for a venue to hold her wedding and that she would be his first client. Fortunately the sale never happened but that didn't deter Margit; she called me every month until I had no option but to agree to her wishes!
Of course the wedding was a great success and we had a lot of fun in the process. Margit had the vision and could clearly see the potential of Bridwell. The fact that we did not have a licence was not barrier to her dream wedding, hers was a humanist ceremony on the the front circle, all rather different, but a lot of fun none the less!
The reception was held in three giant tepees in front of the chapel, (the Orangery was still a pool at that point which her guests took full advantage of) and Dartmoor Kitchen did the catering. My eldest daughter completed her first waitress job, she worked for 12 hours flat and still says that she never worked so hard in her life for so little money…never again! (a rude awakening to the realities of life!) Many of Margit's friends camped in the park and it looked like a mini festival – fortunately the weather was fabulous so all in all it was a very happy time.
So I have lots to thank Margit and Dom for and I was very happy when they called up last weekend to say they were staying locally. We had a lovely lunch in the sunshine , a great catchup and relived a very happy time in their lives and a turning point for myself and the fortunes of Bridwell Park. Thank you Margit and Dom.