Venue and Accommodation
An exceptional setting for your event
From weddings and family celebrations, to charity balls, conferences, business meetings, product launches and team building days, Bridwell offers the perfect location, with complete flexibility to tailor all of the arrangements exactly as you wish.
The handsome Georgian house, Chapel, Orangery and surrounding 100 acres of 18th century landscaped parkland provide a superb collection of flexible spaces.
Accomodation
The House and Old Stables combined offer accommodation for up to 46 guests in 20 spacious, generously appointed bedrooms, each with its own distinctive style and all with superb views over the park and gardens.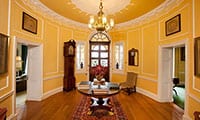 Five generous principal reception rooms with additional meeting space and a home cinema on the lower ground floor.
Read more…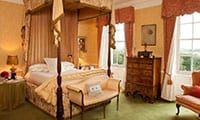 Ten luxurious bedrooms for up to 20 guests.
Read more…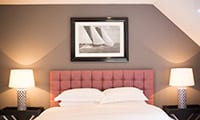 A further ten luxurious bedrooms for up to 26 guests.
Read more…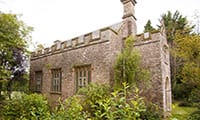 Built as a museum, and never consecrated, the Chapel's striking Gothic architecture and interiors will not fail to impress your guests.
Read more…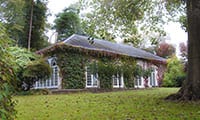 A huge, light filled space ideal for larger events.
Read more…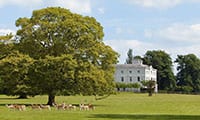 Park & Gardens
Offering almost limitless opportunities for outdoor activities, parties, marquees, glamping, or just relaxing in the gardens and soaking up the atmosphere with a long, cool drink in hand!
Read more…

About Your Venue
On site activities
Inside the house we have a super home cinema to enjoy movie nights and video sessions for groups of 20 to 30 people. We also have table tennis, and one cannot overlook the delightfully comfortable spots to simply lounge in great company with your loved ones, family and friends for sheer uninterrupted quality relaxation.
Outside, Bridwell has its own tennis courts, and guests have the option to freely explore the glorious parkland complete with our picturesque lake.
We can also guide you to numerous Local Attractions.
Secure private hire
Bridwell is well equipped to accommodate secure, private hire bookings for high profile business leaders, politicians or private individuals. The house is situated in the middle of its 100 acre estate; with helicopter access; secure grounds with CCTV surveillance and security measures. By road the estate may only be accessed via entry phone secure gates, and Bridwell's discreet staff are accustomed to managing the privacy and discretion that is essential for such visits.